BUILD A CAREER WORTH HAVING!
Keller Williams Agent Career Opportunities
KELLER WILLIAMS OFFERS THE BEST TRAINING & SUPPORT!
Take your career to the next level with Keller Williams Realty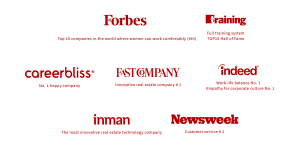 ✔ Keller Williams was named one of the 50 Happiest places to work by Career Bliss!
✔ Glass Door also named Keller Williams the #1 Best Place to work in 2021.
What are you waiting for? Let's start building your fresh career path today!
Visit My Recruiting Website to learn more or apply today.
Keller Williams Mission:
To build careers worth having,
businesses worth owning,
lives worth living,
experiences worth giving,
legacies worth leaving.
Keller Williams Beliefs:
Win-Win: or no deal
Integrity: do the right thing
Customers: always come first
Commitment: in all things
Communication: seek first to understand
Creativity: ideas before results
Teamwork: together everyone achieves more
Trust: starts with honesty
Equity: opportunities for all
Success: results through people
Keller Williams Values:
God,
Family, then
Business